City Manager's Report
For week ending July 30, 2021
Welcome to the City's new Assistant Planner
Community Development is fully staffed again with the addition of our new Assistant Planner/Permit Technician Iris Moore. Iris comes to Normandy Park by way of having worked for Seattle Fire and with an urban planning and sustainable development degree from Western Washington University. Iris's skillsets are in customer service, land use planning, design, dispute resolution, and community engagement. Please welcome Iris to the City of Normandy Park!
We are also grateful for a fully staffed department because the number of permit applications year-to-date are way up over last year's numbers, notwithstanding the impact of the pandemic. For example, electrical permit applications are up 38%, building permit applications are up 35%, and pre-application meetings are up 67%. The department's focus on all our customers means that we are aware of the impacts of delayed service to businesses and homeowners. We appreciate your patience as we continue to manage the workflow.
National Night Out – August 3, 2021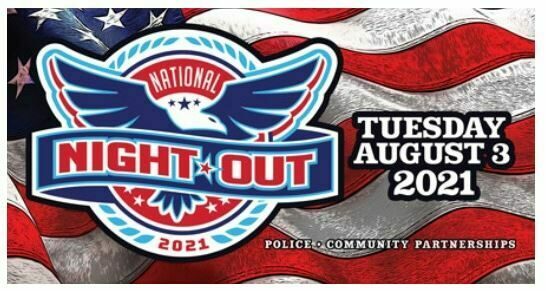 Please join us on Tuesday, August 3, 5:30-7:30 PM at City Hall Park for the annual National Night Out.  National Night Out is a national community-building campaign that promotes police-community partnerships. It is a great way to meet your Police Officers, City Councilmembers, and neighbors. Free pizza will be provided.  We hope to see you there!
Construction Activity Update
The work continues! Several contractors started working throughout the city on July 19, 2021. Construction activity has focused on stormwater improvements and pavement preservation. Contractors focused on stormwater and ADA improvements continue their work, and the following locations will see construction activity the week of August 2:
12th Pl SW just north of Sylvester Rd SW
170th St SW and 22nd Ave SW
The King County pavement preservation project is nearing completion. This project includes work to overlay several road segments with new asphalt in 2021.  The final part of work will occur next week at SW Shorebrook Drive, west of 12thAve SW.
Contractors are responsible for notifying residents if driveway access becomes limited.  Thank you in advance for your patience and cooperation. If you have any questions, please feel free to contact Public Works Director Ken Courter (206) 248-8269 or Stormwater Coordinator Jessie Medrow at (206)248-8256.
Shakespeare in the Park 2021 is here!
The City of Normandy Park and the Burien Arts Association are pleased to present two evenings of Shakespeare plays this summer in collaboration with GreenStage.
Saturday, July 31 @ 7: 00 PM: Backyard Bard, an evening of abbreviated versions of The Tempest and Twelfth Night
Saturday, August 7 @ 7:00 PM:  Midsummer Night's Dream
Join us in Marvista Park for this free event; visit https://greenstage.org/shakespeare-in-the-park-3/ for more information. Distancing of family groups on the grass and masks may be required depending on the state COVID-19 regulations at that time. Thanks to the Normandy Park Arts Commission and the Washington State Arts Commission for their support.
August 10th City Council Meeting
The City is starting preparation for the August 10th City Council meeting. Some items of interest that will be discussed include:
A presentation about the Senior Services provided to Normandy Park Seniors through a partnership with the City of Des Moines
Update on the proposed Civic Center
Discussion about Council Committees, Regional Boards, and the possibility of adding more Council Committees.
If you are interested in any of these items, please join us on Zoom to watch the meeting. If you are not available at 7:00 PM on Tuesday, August 10th, please remember that all Council Meetings are uploaded to the City's website and can be watched at your convenience. Click this link to view the City's public meetings.
If you have any questions, please get in touch with me at [email protected]. Have a great week!
– Amy Arrington, City Manager
City of Normandy Park
801 SW 174th Street
Normandy Park, WA 98166
(206) 248-8246 (Direct Phone)