Normandy Park City Manager's Report for week ending Aug. 18, 2023
Pavement preservation work starting soon
It is that time of the year! Our 2023 Pavement Preservation work will begin soon. Lakeside Industries will be in town this September to resurface several streets. The current plan is to start work on September 8th, with the project completed by the end of the month. Of course, the schedule is subject to change. To learn more about the timeline and what streets will be resurfaced, visit the City's 2023 Project Preservationwebsite.
City staff will try and keep the project timelines updated as that information becomes available from the contractors.  Contractors are responsible for notifying residents if driveway access becomes limited.  Thank you in advance for your patience and cooperation. If you have any questions, please feel free to contact Public Works Director Ken Courter at (206) 248-8269 or Stormwater Coordinator Jessie Medrow at (206)248-8256.
City Survey on Parks Closes August 25th
The City is currently working on the first component of the updated Parks, Recreation, and Open Space Plan (PROS); the survey! Residents are encouraged to participate in this survey to share their thoughts and ideas, which will help guide the City's PROS plan. If you have not already, please take a few minutes and complete the survey now!
Community Nature Art Workshop with the Botanical Alchemists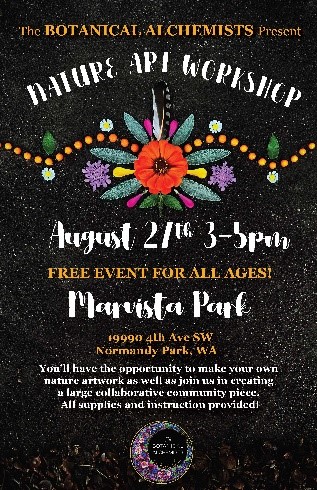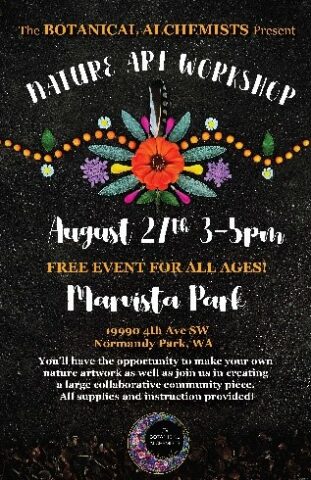 Join the City of Normandy Park Arts Commission for a unique and inspiring Community Nature Art Workshop with the Botanical Alchemists! Immerse yourself in the beauty of nature and unleash your creativity as we explore the wonders of the natural world. Whether you're a seasoned artist or just starting out, this workshop is open to all skill levels. During the workshop, the Botanical Alchemists will guide you through various techniques, allowing you to create your own unique nature-inspired masterpiece. We'll also work together to create community artwork. This art event will happen before Music in the Park on Sunday, August 27th. You can come for the botanical art workshop and stay for the Music in the Park!
Music in the Park this Sunday
Only two more performances to enjoy this summer. This Sunday, August 20th, come to Marvista Park to check out Marina Albero, a piano virtuoso. Bring your favorite blanket and chair and head to the park from 5:00 pm – 6:30 pm for some summer evening entertainment with the family. We'll see you there!
If you have any questions, please get in touch with me at [email protected].
"Have a great week!"
Amy Arrington, City Manager
City of Normandy Park
801 SW 174th Street
Normandy Park, WA 98166
(206) 248-8246 (Direct Phone)